Posted by vvsdesign | Filed under music videos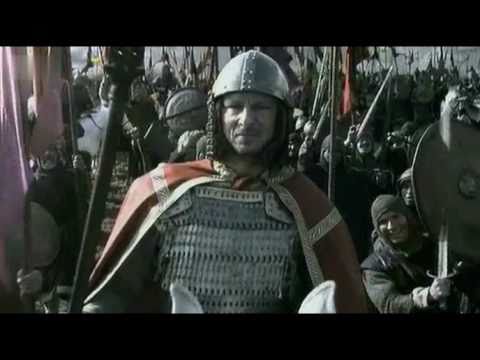 King Otto I. The Great
King of Germany and Holy Roman Emperor
912 – 973
The "Lechfeld" Battle
Soundtrack Title – winds of war by vvsmusic
————————————————–
Otto I. the Great (23 November 912 in Wallhausen — 7 May 973 in Memleben), son of Henry I. the Fowler and Matilda von Ringelheim, was Duke of Saxony, King of Germany, King of Italy, and "the first of the Germans to be called the emperor of Italy" according to Arnulf of Milan. While Charlemagne had been crowned emperor in 800, his empire had been divided amongst his grandsons, and following the assassination of Berengar of Friuli in 924, the imperial title had lain vacant for nearly forty years. On 2 February 962, Otto was crowned Emperor of what would later become the Holy Roman Empire.
More Information in English here:
http://en.wikipedia.org/wiki/Otto_I,_Holy_Roman_Emperor
——————————————————————————–
Die Lechfeldschlacht Otto I. gegen die Slawen und Magyaren
Als der erstgeborene Sohn von Liudolf sich gegen Otto seinen Vater erhob, bedrohten auch die Ungarn das Reich. Obwohl die Ostmarken zur Sicherung gegen heidnische Slawen und Magyaren eingerichtet worden waren, blieben die Ungarn an der Ostgrenze des Ostfrankenreiches eine dauerhafte Bedrohung. Die Ungarn kannten das Reich und dessen innere Schwäche, die ihnen Anlass gab, im Frühjahr 954 mit einer großen Streitmacht in Bayern einzufallen. Zwar war es Liudolf und Konrad gelungen, ihre eigenen Gebiete zu schonen, indem sie den Ungarn Führer in den Westen mitgaben, die sie östlich des Rheins durch Franken geleiteten. Außerdem hatte Liudolf am Palmsonntag des Jahres 954 in Worms ein großes Gastmahl zu Ehren der Ungarn veranstaltet und sie mit Gold und Silber überhäuft. Aber der Sohn Ottos, Liudolf sah sich nun dem Vorwurf ausgesetzt, mit den Feinden Gottes paktiert zu haben, und verlor schlagartig Anhänger an Otto. Die Bischöfe Ulrich von Augsburg und Hartpert von Chur vermittelten ein Treffen zwischen den Konfliktparteien auf einem Hoftag in Langenzenn. Verhandelt wurden nicht so sehr die Ursachen des Konfliktes zwischen Vater und Sohn, sondern vielmehr allein die Verwerflichkeit des Paktes des Liudolf mit den Ungarn. Dessen Verteidigung, er habe dies "nicht aus freien Stücken getan, sondern durch die äußere Not getrieben, war schwach.
Mehr von König Otto I. der Große in deutsch:
http://de.wikipedia.org/wiki/Otto_I._(HRR)
http://www.koenig-otto-der-grosse.de
Tags: epic, filmmusic, King Otto, orchestral, Roman Emperor, soundtrack, video
Leave a Reply
You must be logged in to post a comment.